Current Projects

The Carson Redevelopment Agency (Agency) has been or is actively involved in the following current redevelopment projects:
The Gateway/The Renaissance at City Center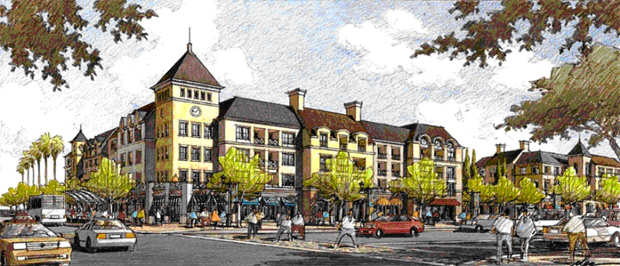 The Gateway development is located on the northeast corner of Avalon Boulevard and Carson Street will serve as a catalyst for the future development of the City's downtown district as a livable, pedestrian friendly area with a vibrant, "main street" character. The development will provide quality homes for seniors and working families within walking distance of community-serving facilities such as City Hall, the Congresswoman Juanita Millender-McDonald Community Center, elementary schools, grocery stores, and public transportation.

The Agency partnered with Thomas Safran & Associates (Developer) to facilitate the development of this 4.5-acre, $70 million, mixed-use project. The Agency contributed approximately $21.4 million in redevelopment funds for this project. It was designed in accordance with the Carson Street Master Plan guidelines and includes: 85 affordable senior apartment units, 150 market-rate apartment units, 30,000 square feet of ground floor retail space, surface and underground parking. The development will be built in two phases.

Phase I (known as The Gateway) was completed in April 2011 and consists of International House of Pancakes restaurant on the ground floor with 85 units of affordable senior housing (all one-bedrooms). The Carson Redevelopment Agency provided $13.9M to assist in financing Phase I. Housing applications are no longer being accepted.

Phase II (to be known as The Renaissance at City Center) began construction in Fall 2010 and includes: 150 market-rate rental housing units (1-, 2-, and 3-bedroom units), a 25,000 square feet of lifestyle-oriented shops, and subterranean parking. The Carson Redevelopment Agency provided $7.5M in financial assistance for Phase II to be located to the south of the senior development. Phase II construction is slated for completion in Summer 2012. This mixed-use project is expected to generate over $300,000 annually in revenues, 522 construction jobs and 72 permanent jobs.
425 E. Carson Street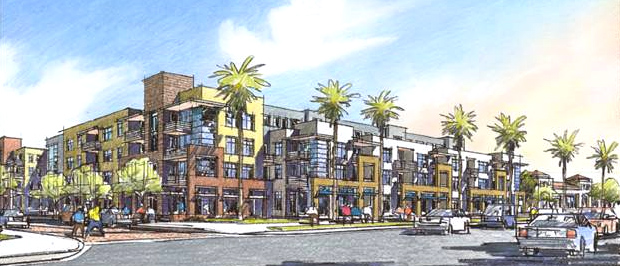 The Agency entered into a Disposition and Development Agreement (DDA) in June 2010 to assist The Related Companies (Developer) to construct a 65-unit affordable apartment housing complex over a podium with 147 parking spaces. Pursuant to the DDA, the Agency sold 1.75 acres to the Developer at the fair market value of $1,906,500. The total development cost is estimated at $20.6 million. The Agency will contribute approximately $6.8 million toward development of the project. The project is a two and three story development that includes approximately 12 one-bedroom units (605 square feet), 33 two-bedroom units (1,050 square feet), and 20 three-bedroom units (1,150 square feet). All rental units, except manager's unit, will be rented at affordable rents for not less than 55 years, as follows: seven units restricted to very low income households, 25 units restricted to low income households, and 33 units restricted to households earning less than the moderate income limits. Construction began in April 2011.

The Boulevards at South Bay
The City is continuing work on The Boulevards at South Bay, formerly known as the Carson Marketplace, located on a 157-acre landfill site. While there is no immediate health risk, the site is currently being remediated under the oversight of the State of California Department of Toxic Substance Control. The remediation plan has been designed to ensure that future site occupants and users are not exposed to the existing toxins at the site. Under a Specific Plan, development standards and guidelines allow for a potential mix of approximately 2 million square feet of commercial, restaurant and entertainment venues, big box retail stores, a 300-room hotel, and up to 1,150 residential units. In connection with this development is a $22 million project to modify the Avalon/I-405 Freeway interchange. The plan is to reconfigure the existing on and off ramps to ease traffic and accessibility prior to completion of The Boulevards at South Bay. A portion of housing bonds sold in fall 2010 is expected to assist in the development of the residential component.

Carson Street Corridor
In 2006, the City adopted a Master Plan for the Carson Street Corridor Mixed Use District. The Master Plan area is a 1.75-mile portion of the Carson Street corridor between the I-405 San Diego Freeway at the Dominguez Channel and the I-110 Harbor Freeway. The Master Plan is a comprehensive long-range revitalization strategy that effectively establishes a link between the implementing policies of the Carson General Plan, the zoning ordinance, as well as goals within the Redevelopment Plans. The Master Plan intends to implement the community's goal of making Carson Street a vibrant, distinctive and economically viable corridor that combines places to work, shop, live and entertainment. In particular, the Master Plan focuses on connecting public amenities such as the library, schools and Civic Center with residential and commercial development. The Master Plan also addresses rehabilitation of existing multiple-family housing stock, community buildings, and public/private funding of various infrastructure elements. Currently the Agency is in negotiations with two housing developers for development of two major housing projects along the Carson Corridor, and has assisted another that is under construction.

616 E. Carson Street
The Agency entered into an Exclusive Negotiating Agreement in December 2009 with a CityView for development of a mixed-use project on 9.5 acre Agency-owned parcel located adjacent to Ralph's Center. The proposed development will include approximately 152 market-rate, for sale, residential units and 14,000 square feet of ground floor retail space. Fifteen percent (or 23 units) would be sold to moderate-income households. The Agency will sell the property to the developer at fair market value.

Congresswoman Juanita Millender-McDonald Community Center Renovation
Built in 1983, the Congresswoman Juanita Millender-McDonald Community Center (Community Center) is in need of many repairs and updates. In March 2010, a Cooperation Agreement between the Carson Redevelopment Agency (Agency) and the City was approved authorizing the use of Agency funds to assist in renovating the Community Center. The estimated cost of the project is $4,838,713.00. The Agency will provide up to $3,875,100 toward the total cost of the project. Other sources of funds include: General Fund, Capital Asset Replacement Fund, and Department of Energy under Energy Efficiency & Conservation Block Grant (EECBG) Program. Renovations began in April 2011 and will continue until January 2012, weather permitting.

The scope of project includes:
Removal and replacement of Community Center Roofing and various plumbing fixtures; installation of solar panels; replacement of four existing air handling units (HVAC); replacement of chandelier in Hall ABC; replacement of existing marquee adjacent to Carson Street; upgrading meeting room audio/visual equipment; replacement of cooling tower; installation of energy management system; replacement of expansion tank/water meter; retrofit of parking lot lighting; upgrade of lighting occupancy sensor; replacement of existing water heaters with tankless water heaters; replacement of tile, correction of drainage, installation of security cameras, and replacement of intercom system..

Street Improvements
Avalon Boulevard Interchange Modifications Project at I-405 Freeway
The Avalon Boulevard Interchange Modifications Project at I-405 Freeway (Project) includes construction of a portion of a city roadway west of Avalon Boulevard, reconfiguring the existing on and off-ramps at Avalon Boulevard, and construction of a new southbound on ramp to the 405. The Project is located approximately 1.4 miles southeast of the I-405 interchange at Main Street and 0.7 miles northwest of the I-405 at Carson Street.

The Project will provide improved access to the existing SouthBay Pavilion as well as to the proposed 1,500,000 square-foot "The Boulevard at South Bay" development currently vacant. The Project will also create a southbound I 405 freeway on ramp from northbound Avalon Boulevard (next to the former Don Kott auto dealership).

The recent construction and expansion near California State University, Dominguez Hills (located 1.5 miles north of this interchange), has emphasized the need for and benefit of this project. The project includes construction of a bridge over the Los Angeles County Flood Control Channel and additional traffic signals at this intersection.

The total estimated cost of this project is $19,300,000. The project will be jointly funded by the Carson Redevelopment Agency ($7,440,404), Federal National Corridors & Borders ($769,125), Federal SAFETEA-LU ($4,319,521) and State MTA ($6,770,950).

On June 3, 2010, five bids were received and opened and Powell Constructors, Fontana, CA was awarded the contractor as the lowest bidder with $12,219,821.65. Construction is expected to be completed by May 2012, weather permitting.


Wilmington Ave. Interchange at I-405 San Diego Freeway (in right-of-way acquisition phase; construction to start in April 2012, weather permitting.